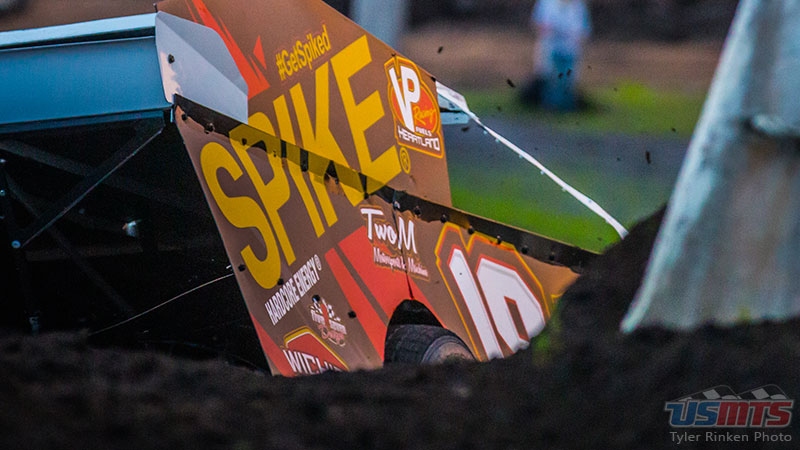 The highest level of dirt Modified racing returns to Lucas Oil Speedway this Saturday, Aug. 3, and if it's anything like the last time the United States Modified Touring Series paid a visit, this one will be another instant classic.
The 10th Annual Slick Mist Show-Me Shootout presented by Foley Equipment brings together the USMTS regulars and the best of the Pitts Homes USRA Modified weekly regulars in a 40-lap headliner that will pay $3,000 to the winner.
It's part of the Casey's Hunt for the Championship—a 21-race series over six weekends.
"For fans who love Modified racing, this is an event that's been circled on the calendar for a long time," Lucas Oil Speedway General Manager Danny Lorton said, adding that many still are talking about last year's Show-Me Shootout at Lucas Oil Speedway.
Named Lucas Oil Speedway's Race of the Year at season's end, the feature saw four-wide racing for the lead in an absolute thriller before Stormy Scott emerged the winner. His twin brother, Johnny Scott, was second and Lucas Oil Speedway 2018 track champion Darron Fuqua settled for third after leading the first 34 laps.
Rodney Sanders of Happy, Texas, who wound up fourth in that one, returns as the USMTS national points leader. He's 177 in front of Dereck Ramirez of Woodward, Okla., and 195 ahead of Ryan Gustin of Marshalltown, Iowa.
Representing the Show-Me State, Terry Phillips of Springfield is seventh in USMTS national points and Wheatland's Mike Striegel is ninth as well as second in the Grant Junghans USMTS Rookie of the Year standings..
Among the Pitts Homes USRA Modified regulars at Lucas Oil Speedway, the two highest in track points that fail to qualify for the feature will receive provisionals into the main event. The top three spots are currently held by Robbie Reed of Mexico, Paden Phillips of Chanute, Kan., and Jason Pursley of Hermitage.
Also in action on Saturday will be the Ozark Golf Cars USRA B-Mods and O'Reilly Auto Parts Street Stocks. They will be running 20-lap features for regular Big Adventure Weekly Racing Series points.
Kris Jackson of Lebanon continues to lead the Ozark Golf Cars USRA B-Mod points by 43 over J.C. Morton after Morton broke his six-race winning streak at the track last Saturday. In the O'Reilly Auto Parts Street Stocks, Wheatland's Toby Ott holds a commanding 109-point lead over Johnny Coats.
Gates will open at 4 p.m. with hot laps at 6:30 and opening ceremonies at 7. Fans can pick up $2 discount admission coupons this week at participating Casey's General Stores.
Admission prices:
Adults (16 and over) $20
Seniors (62 and over)/Military $17
Youth (ages 6-15) $10
Kids (5-and-under) FREE
Family Pass $50
Pit Pass $40
The Lucas Oil Speedway is located at the junction of Hwy. 83 and 54 in Wheatland, Mo. A campground with shower and bathroom facilities is also available. With its entrance located just outside the pit gate this sprawling scenic camping facility will continue to enhance the racing experience at the Diamond of Dirt Tracks. Click www.lucasoilspeedway.com for more information or call the track hotline at (417) 282-5984.
To learn more about the United States Modified Touring Series, visit usmts.com. You can also like the USMTS on Facebook, visit us on Instagram, follow us on Twitter, connect with us on LinkedIn and watch us on our YouTube channel. Keep up to speed with everything USMTS and subscribe to our e-Newsletter.