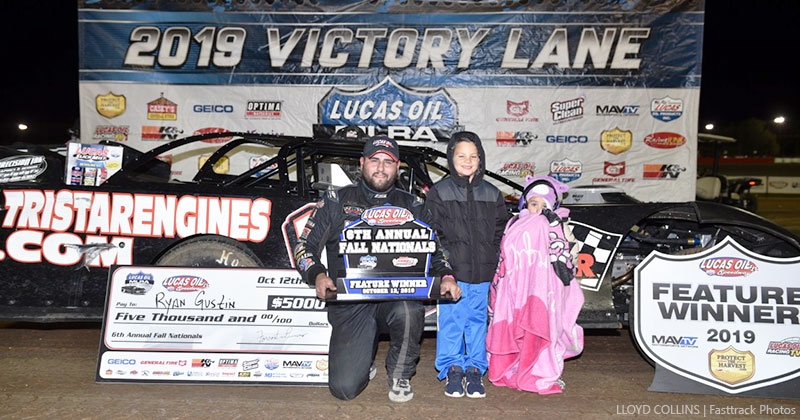 Marshalltown, Iowa's Ryan Gustin unloaded for Saturday nights opener of the MLRA Fall Nationals with a brand new Rocket XR-1 and proceeded to put on a dominating performance, picking up the win in his first MLRA series start of the season and first since 2015.
A strong field of 38 cars rolled through the gates of the Lucas Oil Speedway, in the second MLRA co-sanctioned event of the season with the Comp Cams Super Dirt Series(CCSDS) Present by Lucas Oil. In time trial qualifying, Tyler Bruening set the quick time in his just his first visit to Wheatland. Bruening used his quick time to pick up a heat win along with Payton Looney, Brian Rickman, and Tony Jackson Jr.
For the second time on the season Bruening rolled from the DirtonDirt.com Pole position alongside of Jackson Jr. On the races first circuit, contact between Looney and MLRA Point leader Will Vaught sent Looney spinning in front of the field from his row two starting position. Terry Phillips ended up making contact with the spinning #15 of Looney, resulting in Looney landing on his top in the middle of a nine car parking lot in turns three and four.
Looney was able to climb from his car unhurt, and was the only car unable to continue the duration of the 50 lapper.
With the track clear, Bruening jumped out front to a comfortable lead over Jackson Jr. until a lap eight yellow was displayed for a slowing Phillips. Back under green on lap 10, Jackson jumped the cushion in turn one and looped his #56, surrendering the second position and giving up what was shaping up to be a big points night for the current runner-up in the Comp Cams Super Dirt Series standings.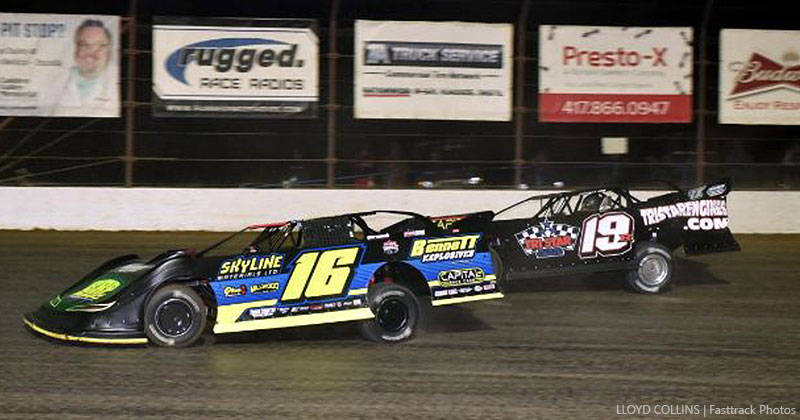 Bruening again restarted from the top spot with Brian Rickman and Gustin in tow with 40 laps remaining. Gustin used the long run and lapped traffic to his advantage, chasing down Bruening by running the treacherous top side of the speedway.
Exiting turn two, Gustin use the top side momentum to steal the lead from Bruening. Both drivers continued to pressure one another over the balance of the race, diving in and out of lapped traffic.
At the end it was Gustin pulling off the surprise win, his seventh all-time under the Lucas Oil MLRA banner. Bruening scored his second runner-up finish of the season in just his fourth start while defending MLRA champion Chad Simpson capped off the podium. MLRA points leader Vaught all but locked up the series title finishing fourth, while Rickman completed a strong night in the fifth spot.
Gustin's win pocketed him $5,000 plus an additional $750 bonus on behalf of the family of Ron Jenkins, the original builder of the Wheatland Raceway.
"Hats off to these guys, this Rocket was just on a rail," an excited Gustin commented from Lucas Oil Victory Lane. "TriStar Engines, without them none of this would be possible.
"It was especially (tricky) getting down there into (turn) one if you were down just a little bit you could get your right front in a brown spot and bottom out and push. If you were above it you would go off the race track, so it was a fine line up there for sure.
"It feels good man. I never in my wildest dreams would have imagined we would come back and win like that. This XR-1 was just on a rail and it don't get no better."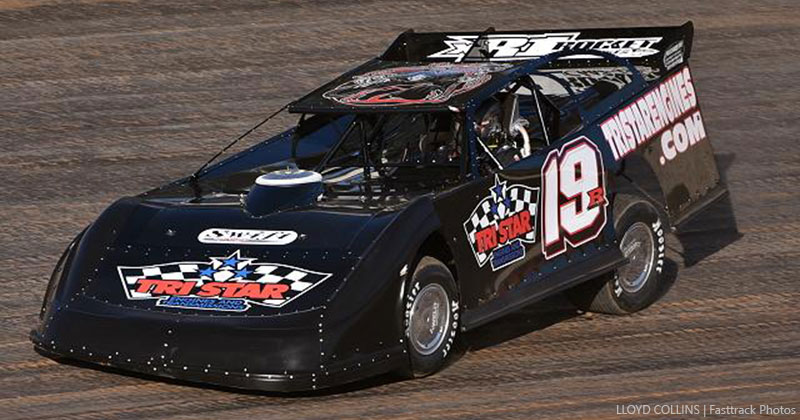 Buening's second-place finish was bittersweet for the Decorah, Iowa, driver who is still seeking his first career MLRA win.
"The car was phenomenal all nigh," noted Bruening, who collected the Cedar Creek Beef Jerky Most Laps Led Award. "This is the first time we have ever been here and we've got a pretty good hot rod for tomorrow night.
"You're kind of a sitting duck out there. I couldn't really see my guy and didn't really know where to go. I felt really good all over. I think he (Ryan) was just a little better than me tonight. We will learn from tonight, make a few adjustments and be better tomorrow."
Championship night for the Lucas Oil MLRA and the finale of the 2019 Fall nationals will take place on Sunday at the Lucas Oil Speedway. A full $3,000-to-win 40-lap feature will highlight the action for the late models, as once again the Comp Cams Super Dirt Series will join the MLRA in this co-sanctioned event.
Gates will open Sunday at 1 p.m. with hot laps at 3:30 and the first race hitting the "Diamond of Dirt Tracks" at 4:05. Also on the card will the championship features for the annual USRA B-Mod Clash of Champions which will dole out $3,000 to the winner.
For all of the latest news and information fans are encouraged to visit the series website at MLRARacing.com. Fans may also like us on Facebook and follow us on Twitter.
= = = = = = = = = = = = = = =
OFFICIAL RESULTS
Lucas Oil Midwest Latemodel Racing Association (MLRA)
COMP Cams Super Dirt Series presented by Lucas Oil
Lucas Oil Speedway, Wheatland, Missouri
Saturday, October 12, 2019
Cedar Creek Beef Jerky Heat #1 (10 laps): 1. Tyler Bruening, 2. Will Vaught, 3. Terry Phillips, 4. Kaeden Cornell, 5. Timothy Culp, 6. Colton Horner, 7. Mitch McGrath, 8. Jeremy Grady, 9. Chad Mallett, 10. Matt Mickelson.
Casey's General Stores Heat #2 (10 laps): 1. Brian Rickman, 2. Jason Papich, 3. Ryan Johnson, 4. Gavin Landers, 5. B.J. Robinson, 6. Brent Larson, 7. Raymond Merrill, 8. Tony Toste, 9. Jake Timm.
Sunoco Race Fuels Heat #3 (10 laps): 1. Tony Jackson Jr., 2. Chad Simpson, 3. Ryan Gustin, 4. Mason Oberkramer, 5. Hunter Rasdon, 6. Steve Drake, 7. Rickey Frankel, 8. David Payne, 9. Reid Millard, 10. Todd McCoin.
Midwest Sheet Metal Heat #4 (10 laps): 1. Payton Looney, 2. Jake Neal, 3. Logan Martin, 4. Scott Crigler, 5. Morgan Bagley, 6. Travis Denning, 7. Clyde Ward, 8. Skip Frey, 9. Joseph Gorby.
Allgaier Motorsports Racing Shocks "B" Feature #1 (12 laps): 1. B.J. Robinson, 2. Gavin Landers, 3. Timothy Culp, 4. Colton Horner, 5. Kaeden Cornell, 6. Brent Larson, 7. Mitch McGrath, 8. Tony Toste, 9. Jake Timm, 10. Raymond Merrill, 11. Chad Mallett, 12. Jeremy Grady, 13. Matt Mickelson.
MAVTV "B" Feature #2 (12 laps): 1. Scott Crigler, 2. Mason Oberkramer, 3. Steve Drake, 4. Morgan Bagley, 5. Travis Denning, 6. Clyde Ward, 7. Reid Millard, 8. David Payne, 9. Todd McCoin, 10. Hunter Rasdon, 11. Joseph Gorby, 12. Skip Frey, 13. Rickey Frankel.
Lucas Oil Racing TV "A" Feature (50 laps): 1. Ryan Gustin, 2. Tyler Bruening, 3. Chad Simpson, 4. Will Vaught, 5. Brian Rickman, 6. Jason Papich, 7. Mitch McGrath, 8. Timothy Culp, 9. Jake Neal, 10. B.J. Robinson, 11. Logan Martin, 12. Mason Oberkramer, 13. Steve Drake, 14. Morgan Bagley, 15. Colton Horner, 16. Terry Phillips, 17. Gavin Landers, 18. Tony Jackson Jr., 19. Ryan Johnson, 20. Hunter Rasdon, 21. Scott Crigler, 22. David Payne, 23. Joseph Gorby, 24. Payton Looney.
Contingency Awards:
Allgaier Motorsports Racing Shocks Award - Bruening.
Casey's General Stores Hard Charger - McGrath.
Cedar Creek Beef Jerky Most Laps Led - Bruening.
DirtonDirt.com Pole Award - Bruening.
Hooker Harness 11th Place Finisher - Martin.
Midwest Sheet Metal Points Leader Spoiler Challenge - Vaught.
Performance Bodies Performer of the Race - Gustin.
RacingJunk.com Hard Luck Award - Looney.
Sunoco Rookie of the Race - Neal.